News
Posted by Anna Hamann on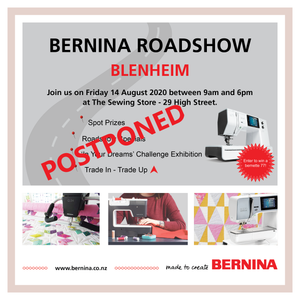 Unfortunately due to the current COVID 19 Alert Level 2 Restrictions, we feel it is the responsible thing to do to postpone our BERNINA Roadshow event we had planned for this Friday 14th August. I know a number of you were keen to come to the Roadshow to look at machines, and even to find out about some event specials. Please contact us anyway and we can arrange a time for you to come in and discuss your needs. We will have the new bernette range on display for you to play with – these will be in store over the next 7 days. We had also issued vouchers...
Posted by Anna Hamann on
Just when we thought we had it sussed.... Some changes and specifics have been released around the rules for retailers operating under Level 2, so we are changing our requirements! Good news is that we do not need to keep contact tracing records UNLESS we are unable to maintain a 1 metre distance, or if the individual spends an extended amount of time in the store. This means that we only need to take details for contact tracing purposes from: Alterations customers Customers who have had a machine demo or lesson Class participants We have implemented a simple system which is paperless (no...
Posted by Anna Hamann on
We are excited that we shall be able to welcome you through the doors and into our store again at The Sewing Store from Thursday 14th May! Your next visit to The Sewing Store might be a little different to your last visit pre-COVID-19. Let me run you through the changes we have implemented to be able to open in Level 2: Most importantly, if you are sick or unwell, please do not enter the store. Remember you can access supplies without coming into the store – phone us on 03 578 7801, email anna@thesewingstore.co.nz, or purchase online at thesewingstore.co.nz...
Posted by Anna Hamann on
  We are really looking forward to seeing you from a distance! From tomorrow Tuesday 28th onwards, this will be the route to collect your pre-ordered items from The Sewing Store. Many, many thanks for supporting us, and thank you for keeping your 2 metre distance
Posted by Anna Hamann on
Hey everybody, thanks for sticking with us! We are back from Tuesday 28th onwards ready to serve all your sewing needs. We shall be taking orders by phone, by email, or through our new online store - www.sewstore.co.nz ! Yes - it is now live and working! I am constantly adding product though, so if you do not yet find what you are looking for, please either ring 578 7801 during shop hours or email anna@thesewingstore.co.nz and we will find a solution.Alterations during Level 3We will be able to resume our alterations service in a limited capacity. We will be providing the following services: Hems of...
---