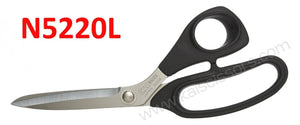 Kai Dressmaking Scissors 220mm LEFT HANDED
$4300

$43.00
Tax included.
---
---
This is the KAI 5220L - 8 1/2" Left-Handed Scissor.  Left-handers love the feel of these scissors. Ergonomic grips allow for easy cutting without discomfort to your thumb. 
This is the best fabric scissor made for left handed users.  Large handle grip and standard blade length.  This differs from the True Left scissors, in that the blades are not reversed, but is made to fit comfortably in your left hand. (A right handed scissor with a left handed grip for fatigue-free cutting!)
Please Note the difference between a 5210L True Left-Handed vs the 5220L:
The 5210L is a genuine left-handed scissor with left-handed blades - and will not work correctly for a left-handed person that is used to working with right-handed scissors - as they will actually be pulling the blades away from each other - preventing the cutting action from taking place properly. This will give the effect that the scissors are dull as they will fold the fabric.

The 5220L is a left-handled scissor (the handles themselves fit in the left hand) with right handed blades. These scissors have been designed to work for a left-handed person who has learned to cut with right-handed scissors.
---
We Also Recommend